Mark Jones, FCIA President, Director of Tech Marketing, Broadcom Limited
It's amazing to reflect on where Fibre Channel is today since the completion of the standard in 1994. From that time until now we have witnessed some amazing changes in the computing industry, no longer is there a single solution that fits all but continuous innovation has produced technologies and products that more accurately service the needs of a broad array of compute scenarios.
One trend that everyone can agree on is that the exploding growth of data is a constant that will challenge computing well into the future. Since 2001 more than 107.1 Million Fibre Channel ports1 have shipped to storage customers and it is estimated that 46 million ports are in current operation in datacenters today2. Fibre Channel continues to be the most widely used transport for enterprise storage and is estimated to store nearly 25 Exabytes of data in 20163. In fact, it is predicted that Fibre Channel will continue to lead enterprise storage capacity by 112% over all other block storage protocols at the end of 2019(3).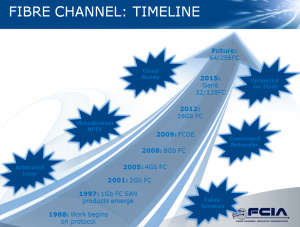 The endurance of Fibre Channel as the go-to transport to carry data in the datacenter isn't by accident or the lack of other technology challengers; it was explicitly designed to meet the requirements of future storage networking needs by experienced industry professionals from the top companies in computing. In fact, Fibre Channel's continued popularity are directly attributable to a series of distinctive design attributes:
Designed for Storage – Unlike networks that are adapted for storage traffic, Fibre Channel was designed for storage since its inception. Fibre Channel was designed to ensure that all storage data arrives to its network destination without loss at extreme throughput and low latency, while operating at high utilization rates without data collisions or the need for retransmission.
Designed for Compatibility – Datacenter configurations often evolve organically, and other networking environments reflect a more ad hoc philosophy over time. This can lead to compatibility and interoperability issues. However, stringent industry standards require all conforming Fibre Channel products to be backwards compatible to at least two generations and ensure multi-vendor compatibility.
Designed for Performance – An industry roadmap has guided Fibre Channel to doubling speeds every three-to-four years, matching typical datacenter equipment refresh cycles. This means that as datacenters grow, the highest performance storage networking technology is always available for deployment. Current Gen6 products are available at 32GFC single lane and 128GFC multi-lane configurations for providing over 25GB/s of bi-directional data throughput.
Designed for the Future – As a transport protocol, Fibre Channel predominantly transports SCSI commands, but it was designed to support other upper level protocols as well. FICON is an example of a common alternate transport protocol often used. Future transports such as NVMe over Fabrics are in development for Fibre Channel and will allow flash storage devices to run native NVMe over a shared Fibre Channel network.
Overall, 2016 is a year for milestones for FC in the storage industry. Production shipments of 16GFC products have been ramping up and for the first time surpassed shipments of 8GFC. Gen6 Fibre Channel HBA and switches are just entering the marketplace from a variety of vendors.
We expect the draw to higher interface speeds will increase with the adoption of all flash storage products and the continued performance evolution of flash technologies and transports such as NVMe. Data center customers will continue to rely on the proven reliability record and performance of Fibre Channel as they plan deployments of these technologies. As sales of Gen6 Fibre Channel products accelerate and the FC-NVMe standard completes this year, the development of the next Fibre Channel speed (64/256GFC) is already underway. The future of the Fibre Channel industry is as bright as ever.
Fibre Channel and NVMe
The NVMe (Non-Volatile Memory Express) specification is being adopted as the interface of choice for high performance flash or SSD drive manufacturers. Used as a PCI Express storage device interface where SSDs connected directly to a server's PCIe complex, bypassing an operating system's SCSI stack altogether, avoiding significant I/O latency and performance penalties.
FC-NVMe leverages the new NVMe over Fabrics specification that was completed in 2016, enabling the networking of NVMe devices while preserving a significant amount of the performance benefit of local NVMe. FC-NVMe will allow native, end-to-end NVMe communication over a Fibre Channel network while concurrently passing legacy SCSI and FICON traffic. This means that NVMe devices can be deployed into existing Fibre Channel SANs, leveraging the industries philosophy of backwards compatibility and investment protection, robust interoperability and proven FC reliability.
This Solutions Guide provides some insight as to how this purpose-built storage networking technology is preparing customers for continued growth in storage environments, performance, and capacity. Inside, you'll find more information on:
Roadmap trends
How Fibre Channel and NVMe over Fabrics work together
How Flash storage environments have unique challenges that are tailor-fit for Fibre Channel solutions
How the industry is working to promote compatibility and interoperability, providing customers with ongoing reassurance of the reliability and security that they've come to expect
Without question, the needs and requirements of scalable data center storage will continue to rely on the rock-solid reliability and availability of Fibre Channel. Those who have come to count on the dependability of Fibre Channel – as well as newcomers seeking robust, sound technology for storage – can remain confident in its growth and endurance for Data Center storage needs.